[caption id="attachment_7552" align="aligncenter" width="750"]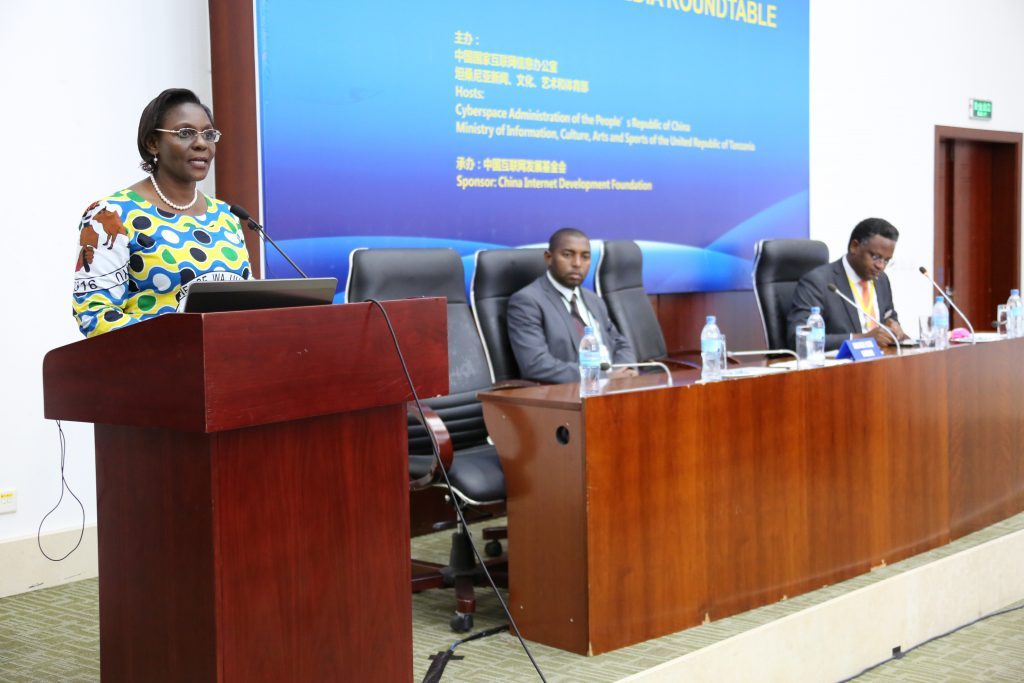 Deputy Minister for Information, Culture, Arts and Sports Hon.  Annastazia James Wambura (MP) speaking during the closing session of the New Media Round table meeting held yesterday at JNICC in Dar es Salaam.[/caption]
By: Tanzania Information Service-MAELEZO
Tanzania has urged international community to enhance dialogue and cooperation in order to promote transformations leading to multilateral, democratic and transparent global internet governance system.
Speaking at the closing of the one day New Media Round Table held at Mwalimu Nyerere Convention Centre in Dar Es Salaam, Deputy Minister for Information, Culture, Arts and Sports Ms Anastazia Wambura said the world has to take a collective action to guarantee a peaceful, secure, open and cooperative cyberspace.
"A secure, stable and prosperous cyberspace is of great significance to all countries and the world" She said and insisted that cyberspace should neither become a battle field for countries to wrestle with one another nor a hotbed for crimes.
In this respect, the Deputy Minister called for countries to work together in addressing cyberspace criminal activities among other terrorism, phonography, drug trafficking, money laundering and gambling.
"All cybercrimes, either commercial cyber theft or hacker attacks against government networks should be firmly combated in accordance with relevant laws and international conventions" she said and cautioned on double standards in dealing with such crimes.
The Deputy Minister noted that "cyberspace is not a place beyond the rule of law" hence countries must build a good order in cyberspace in accordance with the law to protect the legitimate rights and interest of all internet users.
"Cyberspace is virtual but players are real. Everyone should abide by the law with the rights and obligations of parties concerned clearly defined", she said and added that cyberspace must be governed, operated and used in accordance with law, so that the internet could enjoy sound development under the rule of law.
The Deputy Minister asserted that global community should hold the future of the cyberspace therefore the members of international community should step up communication, broaden consensus and deepen cooperation to build a community of shared future in cyberspace.
She reminded the participants which included media, government officials and private sector that maintaining cyber security was a shared responsibility of the whole international community because no one was invulnerable from it.
"All countries should work together to contain the abuse of information technology, oppose cyber surveillance and cyber-attacks and reject arms race in cyberspace" The Deputy Minister told Round Table participants.
The Media Round was opened by Minister for Works, Transport and Communication Professor Makame Mbarawa who reiterated government resolve to continue with its efforts to implement National ICT Broadband Backbone project and its measures to ensure cyber environment was free from crimes.
The Round Table was also attended by Chinese Vice Minister for National Cyberspace Administration Mr. Ren Xianling who urged China and Tanzania to use social media to strengthen relations between the two countries.
Also in attendance was Chinese ambassador to Tanzania Dr. LU Youking who told  participants that media was very important tool in strengthening excellent relations existing between the two countries and the cyber media round table demonstrated how closer media of the two countries were.